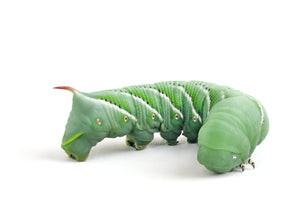 Superworms.com
Live Hornworms
Regular price
$11.00
$0.00
Unit price
per
What is the difference between the 12ct & 25ct Hornworm Cup?
What animals can you feed Hornworms to?
How to Care for your Hornworms?
GOLIATH (HORN) WORMS ARE AN EXCEPTIONAL WAY TO GET YOUR PICKY REPTILE TO EAT, AS THEIR BLUISH-GREEN COLOR ENTICES REPTILES TO CHOW DOWN ON THEM. ALL OF OUR PERSONAL REPTILE COLLECTION ABSOLUTELY LOVES THESE SQUISHY WORMS! HORN WORMS ARE A VERY DELICIOUS [I WOULD KNOW THAT ;)] AND NUTRITIOUS FEEDER INSECT FOR MANY REPTILE SPECIES INCLUDING BEARDED DRAGONS, LEOPARD GECKOS, CRESTED GECKOS, CHAMELEONS, MONITORS, SKINKS AND MANY MORE. THE NUTRITIONAL CONTENT IS AS FOLLOWS…
Nutritional Content:

Protein 9%

Fat 3.07%

Calcium: 46.4mg/100g, 464ppm

Moisture 85%
All our feeder insects come with a Live Arrival Guarantee. If they don't arrive in top condition please contact us, through phone or email, and we can send out a replacement or a refund, whichever you prefer. 
All live arrival guarantee claims must provide photos to customerservice@reptilianarts.com. Please reach out to us within 24 hours of delivery, so we can fix things as fast as possible for you!
Our Customer Service team can get a bit backed up sometimes, please allow 24 hours for a response via email. If you call and it goes to voicemail, please leave a message. Most likely all of our lines are full, and we will give you a call back as soon as possible! 
---
Share this Product
---