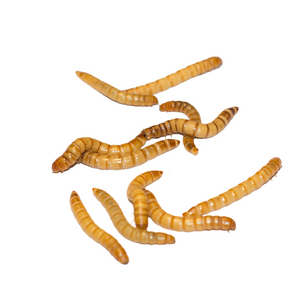 Superworms.com
Live Mealworms
Regular price
$5.00
$0.00
Unit price
per
Mealworms can be refrigerated for a long period of time. Store your live mealworms in a shallow container with old-fashioned rolled oats, wheat bran, or meal. Add oats, wheat bran, or meal to Meal Worms at a 2:1 ratio. Mealworms will eat and burrow in the substrate. Remove them from the refrigerator at least once a month to feed on the substrate, and add a carrot slice or potato wedge for moisture while feeding.
The most popular way to attract and feed bluebirds, as well as other birds that don't generally visit bird feeders for bird seed.

Naturally nutritious for your birds or reptiles.

Great for feeding Leopard Geckos and other four-legged reptiles.

Can be stored for a long period of time.
All our feeder insects come with a Live Arrival Guarantee. If they don't arrive in top condition please contact us, through phone or email, and we can send out a replacement or a refund, whichever you prefer. 
All live arrival guarantee claims must provide photos to customerservice@reptilianarts.com. Please reach out to us within 24 hours of delivery, so we can fix things as fast as possible for you!
Our Customer Service team can get a bit backed up sometimes, please allow 24 hours for a response via email. If you call and it goes to voicemail, please leave a message. Most likely all of our lines are full, and we will give you a call back as soon as possible! 
---
Share this Product
---